WHAT MAKES US GREAT?
Handwritten gift notes
Exclusive wooden crate
Gift givers guarantee - We will replace your Broquet or 100% money-back guarantee
Takes gift-giving to a whole new level - EASY!
Shop our selection of Broquets to win his heart over through his stomach! Who can say no to BACON or JERKY?
Shop our selection of Broquets that will help the man in your life upgrade his drinking style!
Father's Day, Christmas, anniversaries, birthdays, a celebration of success, or just because; Our Broquets are the perfect gift for every man in your life!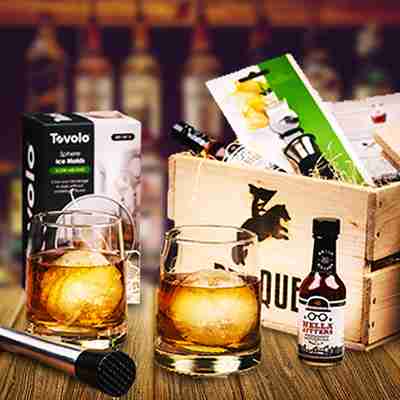 When it comes to a man's cocktail, there is no debate over the standard-bearer, the Old Fashioned. But there is a good deal of debate over how to make a proper one. So we consulted with bartenders, mixologists and saloon keeps until we settled on the One True Way.

What's better than jerky? We'll tell you what. It's jerky made from premium exotic meats, jerky you can't just buy anywhere. If you love meat, you've got to try jerky made from more than just beef. If you've got someone awesome in your life that you want to give the perfect jerky gift, look no further.

Father's Day, Christmas, anniversaries, birthdays, a celebration of success, or just because; this is the perfect gift for every man who loves to cook. This is a can't miss gift for every cook you know. It has everything that makes breakfast-making easy and equally fun and not to mention delicious.
BACON LIKE YOU'VE NEVER SEEN IT BEFORE
We find it hard to believe that we'd need to do any explaining on this one. Bacon is a man's best friend. It makes perhaps the greatest gift of all time. So we set out to find the most awesome, unique bacon products this country has to offer and built a Broquet that delivers bacon in six epic forms.
Think of it as the 6 degrees of Kevin Bacon. Except it's just Bacon, no Kevin.

We're giving you all the ingredients you need to make yourself an awesome meal-in-a-glass beverage known as the Bloody Mary, but we'd also like to give you a little secret. If you've never tried making a Bloody Mary with gin instead of vodka, we highly recommend it. The gin adds some complexity to the flavors of the drink without straying too far from the traditional taste, and frankly, we're not likely to ever go back to mixing them the old way.

The manliest of meats. Broquet knows beef jerky lovers take their meat seriously. That's why we're packing this jerky gift set full of America's best jerky, from giants in the industry to hard-working little guys with amazing products, we're excited to introduce you to. We've taste-tested from the west coast to the east coast and then back again, and you'll be happy to know this super jerky sampler has the seal of approval from some of the most voracious beef jerky fanatics.
Gift sets packed with awesome man stuff. Like a "bouquet", for guys.


Most Broquets come in a wooden crate display box and packed using paper, straw, or bubble wrap for fragile items.


CAN I INCLUDE A GIFT NOTE?

Absolutely. You'll have the option to leave a gift note when you add an item to the cart, and the message will be included on the packing slip that's included with each order.


MY ORDER HAD DIFFERENT ITEMS IN IT, WHY IS THIS?

From time to time we will run out of a certain item for a gift set or have trouble getting that item from a suppler. In this case, we reserve the right to send a replacement item that is of equal or greater value than the one that was originaly to be included.

WHEN WILL MY BROQUET SHIP?

Orders typically ship within 1-2 business days.

If the order is placed on a Friday, your order may not ship until Monday. If the order is placed on a weekend or holiday, the order will ship the next business day.

**Note: During peak periods (ie. Valentine's Day, Father's Day, Christmas Season) orders may take 2-4 business days to ship.

Please be patient with us--we'll try to get your order shipped as quickly as possible and tracking will be sent once the shipping label is created!

CAN I SHIP INTERNATIONALLY?

WHAT IF I NEED TO RETURN AN ORDER?

We guarantee your Broquet will show up in excellent condition. If for some reason you have an issue just email support@broquet.co and we'll make it right.

CAN I PLACE A CUSTOM ORDER?

We're happy to help with custom items or packaging on orders of 4 or more Broquets. Just let us know what you're thinking!


CAN I PLACE A BULK ORDER?

Absolutely. Broquets make great gifts for groomsmen, family gatherings, the workplace and all kinds of other group occasions.




Email us at support@broquet.co and we'll hook you up with a bulk discount.

© 2022 Broquet. All rights reserved.